Greetings strangers and people who read this. ;) Welcome back for another RP Favorite. Today I bring yet another conventional map that will rock your socks off. It is brought to you by Forgotten Wing. Read on for an epic video of gameplay made for him by sir Rifte Gifle (yeah that guy that made the No Hope Campaign; another RP Fave). Before I move on, just a little update. If you have not been to the forums yet, then come join us. We are building a VERY active community of designers that enjoy helping each other out and can look past bad first impressions to help you perfect your content to the best that it can be. We just went through a bit of an update that has added portfolios for regular active members. Tomorrow I am going to preview my first official competitive map... which is also my submission for Bungie's Forgetacular Contest. This will be nice for those reading the lessons, who keep telling themselves "Sure he can talk the talk, but can he walk the walk?". Tomorrow you will be able to answer that for yourselves. On to today's favorite...

This map is crazy awesome. Oh and Forgotten Wing made a special version for all of you Hoarders fans out there. ;) I really need to figure out what to say about conventional maps. All I can keep saying is that their awesome and they play great. Competitive maps are so hard to write about so I will let Forgotten Wing give his little overview for you:
Megiddo is a medium-large map designed primarily for symmetrical Slayer and CTF variants. It has been built support gameplay on all of the variants that Halo Reach has to offer with the exception of Territories (I'm not a fan of that one, and couldn't decide where I wanted the territories to be). It'll support up to 16 players, but I recommend 4-10 for FFA games, and 6-12 for team games. It does not support multi-team gameplay at this time, but plans are in the works for that.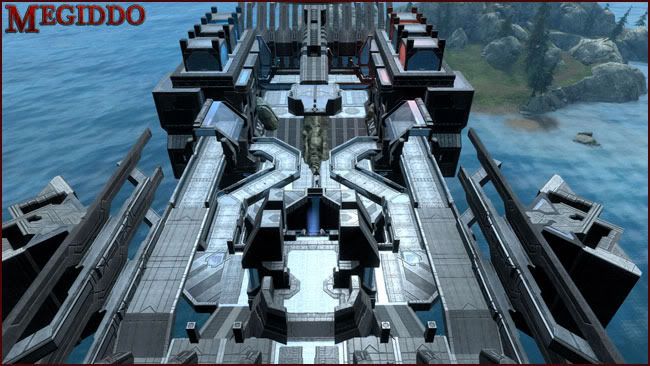 Video courtesy of rifte gifle